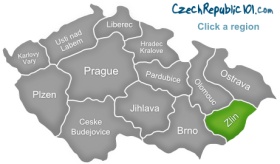 Located in the Southwestern region of Moravia, Czech Republic, Zlin is a town defined by architecture, lush greenery and a prosperous economy that has followed the growth trajectory of an illustrious shoe empire. It is nestled along the river Drevnice and enjoys a mild climate characterized by cool winters. Located at the intersection of the Hana, Wallachian and Moravian Slovak regions, Zlin is best known as the town where the meteoric journey of the Bata Empire started.
The rise of Zlin as a prominent industrial centre can be traced back to Thomas Bata, who started a shoe factory in town in 1894. This humble shoe factory has today morphed into the mammoth Bata Empire with branches in most countries around the world. In the first few decades of the twentieth century, as Bata was expanding its business beyond Zlin, the factory continued to grow and attract labor forces who flocked to the city. The number of inhabitants swelled, Thomas Bata was elected as the Mayor and the city transformed into its modern avatar with a reliable framework of hospitals, markets, entertainment complexes and garden apartments for the factory employees.
Zlin has continued to sustain itself as a major economic presence even after the turbulence of the World War II and the communist regime, while today it is also home to the Thomas Bata University, a number of industrial complexes and a thriving community life. One distinct feature of Zlin's architecture is its raw functionalist nature as Thomas Bata was deeply influenced by Ebenezer Howard's Garden City Movement and espoused the building of functionalist apartments that enhanced the central part that the Bata factory played in the life of Zlin residents. Thus, a steady them can be noticed in most of the town's structures both in form and use of materials.
The Villa of Thomas Bata is an important attraction in the city today. Designed by the famous architect Jan Kotera, the Villa provides insights into the illustrious legacy of both the Bata Empire and the city of Zlin. And then of course there is the Monument of Thomas Bata which is an imposing structure built in 1933 to commemorate his life and works following his death in a plane crash in 1932. Bata's skyscraper, at a height of 77.5 m, was the tallest Czech building at the time of construction and acts as an important part of the Zlin skyline today. One can also marvel at the Grand Cinema, which used to be the largest European Cinema at the time of its construction.
Zlin is a thriving hub of business and activities- a peaceful Czech town where content citizens  rarely decide to leave. A visit here provides a unique opportunity to witness first-hand how the legacy of a business wizard has breathed life into a buzzing town and then experience the culture of an authentic Czech town.