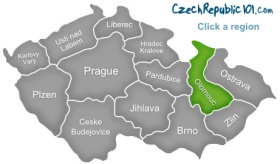 Located in the eastern part of Czech Republic, Olomouc is a vibrant university town and the sixth largest city of the nation. Boasting an illustrious cultural heritage, it was also once the capital of the historical province of Moravia. Today, it enjoys the reputation of being a bustling metropolis with a lively nightlife and remarkable monuments that offer a glimpse of the city's rich history.
Olomouc is situated at the meeting point of the Bystrice and Morava rivers, in the fertile area of the Hana lowland region. The city is surrounded by Wenceslas, Michael's and Peter's Hill, while due to its geographical location, the city has a very pleasant climate and the Hana lowlands are among the warmest regions in the country.
This low lying location also makes it a favourable location for agriculture and as such has a well-established infrastructure and a prosperous economy. Industrial sectors like machinery, optical instruments manufacturing and the textile sector are well-established and then the Palacky University is a major source of employment for the city attracting a large number of students from all over the world. As the international tourist circuit has started discovering the unique charm of Olomouc, tourism has also become a major income avenue for the region.
The cobbled streets, colonial architecture and decadence of the historical buildings strewn around Olomouc together lend it a unique character. In fact, the town square is one of the most beautiful in Europe with twelve churches carved in exquisite intricacy. Another unique feature is that the city was founded on a fresh water spring which can be accessed even today from the St. Michael's Church, while in its dungeons, a torture chamber has been preserved as well and a visit to the chamber will send shivers down your spine.
The 900 year old St Wencelas Cathedral, the imposing St Moritz Church and the Holy Trinity Column are other major tourist attractions. And then there is the Renaissance town Hall, built in the middle of the main square with its fabled astronomical clock is another sight to marvel at. The Holy Trinity Column has also been recognised as a UNESCO world heritage site and is usually featured as one of the prominent points on a tourist itinerary.
Olomouc is an eclectic metropolis that thrives today in perfect harmony with both a rich history and vitality of youth. Throngs of university students paint the town red as tourists start discovering its subtle charms and with microbreweries, cheap cafes and jazz clubs, it is the perfect place to soak in the authentic Czech spirit. Away from the frantic crowd of well-established tourist destinations, Olomouc is a real gem just waiting to be discovered.