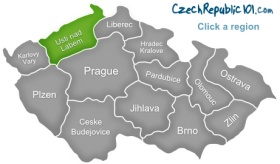 Located at the meetings of the Bilina and the Elbe rivers, Usti Nad Labem is an important industrial centre and a notable river-port. Translating as "Mouth-upon-the-Elbe", this industrious city is located in the mountainous regions of erstwhile Bohemia and is the seventh most populous city in the modern day Czech Republic. Renowned for being one of the most industrialized parts of Central Europe, Usti Nad Labem has traditionally relied on petrochemicals, thermal power and manufacturing industries, while the distribution of industrial investments has become more diverse with increased interest in service-oriented sectors.
Due to its geographical location, Usti Nad Labem enjoys a pleasant climate year around with relatively colder winters. The river Elbe is the major source of vitality and has historically played an important role in the prosperity of the region and at present, Usti is establishing a place for itself in the tourism map of Czech Republic with its relaxed charm and plethora of cultural riches.
Delightful for both for the history buffs and the outdoor lovers, Usti is situated in the Bohemian Highlands which are infused with historical remnants and overflowing with scenic beauty, hiking trails and gorgeous landscapes, with the České Švýcarsko National Park at the fore with its exotic biodiversity. Another highlight is the Střekov castle, a fourteenth century structure built atop a cliff on the river Elbe and one of the first examples of Bohemian defensive architecture. Its semi-circular bastions, arched bridge connects different sections of the castle across a moat and distinct French architectural influences make the castle a must-visit for history lovers. And then there is the Gothic Revival Church of the Assumption of the Virgin Mary, The Vetruse Chateau and the Mariansky Bridge which are further examples of the rich history in the city.
Visitors can choose to enjoy the scenic beauty of Usti Nad Labem in different ways as well. For example, one can choose to travel to the hilltop Vetruse Chateau on a cable car that provides stunning views of the city vista or hike one of the many trails which wind their way through the Bohemian Highlands. A city in the heart of the Bohemian Highlands and enriched by architectural along with cultural brilliance, Usti Nad Labem is both breathtakingly beautiful and overwhelming for the senses.